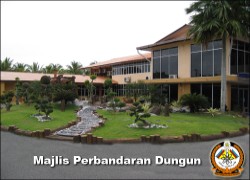 MPD was established on 1st January 1981 under the Local Government Act 1976 (Act 171) through Terengganu State Government Gazzette No. 860 dated 18 .December 1980. As one of the seven (7) local authorities available in the state of Terengganu Darul Iman. MPD is the transformation of the Dungun Local Council and Paka Local Meeting Council.
In the early stage of establishment, the original size of MPD was only 72.59 square kilometers. Beginning from 1996 Terengganu State Authority has gazette the entire Dungun District of 2735.04 square kilometers as MPD area through Terengganu State Government Gazette No. 911, Gazette Plan 550.SUK.TR.572/442/Bhg.2 dated 3rd June 1996. It is 21.11% of the size of Terengganu State and it is the second largest district in Terengganu.
With the addition of MPD area size in proportion to the district size, MPD operational area has been increased to 212.86 square kilometers. The location of the entire MPD area is along the coastal area extending from the north and it borders the Kemaman Municipal Council area in the south, Hulu Terengganu District Council area in the west and Marang District Council area in the north.
The location of Dungun which is situated along the route between the west and east coast gives an impact to the rapid economic growth of this area especially in the petroleum and gas sector which is near to Kerteh, Kemaman.
The major portion of the area is lowland and use land shows that more than 50% of the total area has been developed for various purposes. About 21.1% of the land has been used for residential purpose and followed by agriculture 11.7%. Jungle and swamp forest are 20.1% and 21.1% respectively.
The rapid development of petroleum and gas activities in Kerteh, Kemaman area which borders the Paka, Dungun area has directly given a development impact to Dungun, thus, increasing the economic and physical development in Dungun area. This scenario supports the upgrading of Dungun District Council to a Municipal Council.
Kuala Dungun town is the center of administration and main town. Besides, there is another town namely the Paka Town.
The MMKN meeting dated 15th August 2007 has agreed to upgrade DUNGUN DISTRICT COUNCIL to DUNGUN MUNICIPAL COUNCIL starting from 1st January 2008.
The Proclamation Ceremony of Dungun Municipal Council was held on 20.08.2008 (Wednesday) equivalent to 18 Syaaban 1429H at Merdeka Hall Square, Dungun. The ceremony was launched by Yang Teramat Mulia Tengku Seri Panglima Raja, DK., SSMT., Yang Dipertua of Terengganu Council of Regency. About 25,000 people crowded the Merdeka Hall Square to witness the MPD proclamation ceremony. Thus, Dungun become the third district being upgraded to municipal council. Also present to witness the historical night was the Terengganu Menteri Besar, Datuk Ahmad Said.
LIST OF NAMES FOR YANG DI PERTUA OF DUNGUN DISTRICT COUNCIL
No.Place Of Service
1234567891011
| | |
| --- | --- |
| Name | |
| Dato' Hj. Mohd Adib bin Omar | 1.1.1981 - 31.12.1981 |
| YB. Tuan Hj. Muda bin Abdullah | 1.1.1982 - 31.12.1986 |
| YB. Tuan Hj. Harun bin Ali | 1.1.1987 - 31.5.1995 |
| YB. Tuan Hj. Shafie bin Daud | 1.6.1995 - 31.12.1997 |
| En. Abdul Razak bin Ismail | 1.1.1998 - 31.7.1999 |
| Engku Mohamed bin Engku A.Rahman | 1.8.1999 - 31.5.2000 |
| Tuan Hj. Mat Razali bin Kassim | 15.8.2000 - 14.12.2002 |
| En. Mohd Rozali bin Salleh | 15.12.2002 - 15.12.2004 |
| Tn. Hj. Md. Kamaru Al-Amin b. Ismail | 16.12.2004 - 1.12.2005 |
| Encik Ibrahim bin Mohamad | 1.12.2005 - 31.12.2006 |
| Encik Zainal Abidin bin Hussin | 2.1.2007 – SEKARANG |